5 Creative Writing Tools for Dyslexic Kids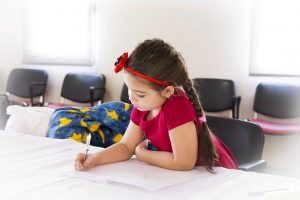 5 Creative writing tools for dyslexic kids

A couple of months ago I finished my year-long teaching course at a local organization in Poland, working with dyslexic children. While teaching my first two classes of English, I was very scared as to how I would prepare for my classes and which techniques I could use.

After a month or so, I fell in love with those kids. They are gifted and creative, and also very eager to learn and improve. After I returned home, I was anxious to go there again, as I felt that I could make a difference and wanted to continue helping those kids.

Teaching to dyslexic children is an art and requires thorough preparation. While volunteering as an English teacher in Poland, I came up with a list of tools that work as a whole to help the learning process easier. These tools are targeted at teaching writing, but involve listening and reading as well.
1. Spelling Assistance
As dyslexia affects a child's memory for letters and words, it also influences the ability to learn how to spell. Dyslexic students can memorize how to spell a few words for a short period of time but can easily forget them. In this case, instruction requires a lot of training, often done by the students themselves.
Dyslexic students can use the benefits of predictive spelling software to make writing much easier. An example is the  Co:Writer app, which includes features like a small selection of dictionaries, reading words and texts out loud, spelling and grammar support.
Such apps and online tools give students with learning differences the ability to expand their writing vocabulary, as these tools have special built-in predictors that figure out the word you need after you type only a couple of letters. This can be extremely helpful in writing and checking the spelling of the word.
2. Turning Speech into Text
Due to dyslexia, children often struggle with writing even a couple of sentences, not to mention working on larger tasks like essays. That's when tools that turn speech into text can help them figure out how to write something down.
Tools such as Voice Note created by Google have speech recognition features to analyze and write down the text. As these gifted kids mostly know how to pronounce words, such tools can be very helpful for them to learn how to write and also analyze their speech and writing.
3. Taking notes
Children with learning differences often a have hard time taking notes during classes. But taking notes is important to a child's academic success. That's why they might benefit from a specific tool that will make note-taking easier. .
Some apps, such as Dyslexic Note, have been created specifically for the purpose of helping dyslexic students take notes during classes. They make it easier to type the text, have automatic spelling check to help students see their mistakes and learn from them, and also are very easy to use. The studying process is eased also eased with inclusion of specific fonts and interface designed for dyslexic students.
4. Working with Words, Difficult to Read
While writing, a dyslexic child can have difficulty with compound and words, or words with different origins and have complex sound combinations. Many of these words cannot be accurately sounded out phonetically.
Spelling can be improved with an understanding of word morphology and derivation.  A good study aid is an app such as Root Words, which contain explanations and examples, as well as having spelling features that allow children learn how to relate word roots to pronunciaiton as well as as writing. Such apps also have built-in tests, so they also work as online learning tools.
5. Writing Motivation
For children with learning differences, writing can be even more overwhelming than learning how to read or to spell. That is why they need even more motivation to help them be more productive and eager to learn.
To encourage dyslexic children to learn more words, an online tool like Easy Word Count can be used to help them see how much they've achieved, but also to motivate them to work even harder. These tools are originally created for teachers and students to help them count words in an essay, but you can turn it into a motivational tool too.
Concluding Thoughts
Before the year of teaching in Poland, I had never worked with children with learning differences. I discovered that teaching to dyslexic children is an endless source of creativity, often coming from the children themselves, as they are so gifted and motivated.
As a conclusion, here are some tips how to teach a foreign language to students with learning differences:
start with speaking and listening right away. By doing so you will help the kids gain fluency in a foreign language faster.
focusing on phonology and pronunciation. Let the children watch cartoons with subtitles in a foreign language and study the parts of each word to help them learn how to pronounce.
immerse them in language. Explanations in the native language of your students should be a rare thing in a classroom. Surround the kids with a foreign language as much as possible.
And the last tip would be to enjoy teaching as much as possible. After all, kids will learn better if they work with an enthusiastic teacher!