The New NOIT – For Everyone
What is a NOIT?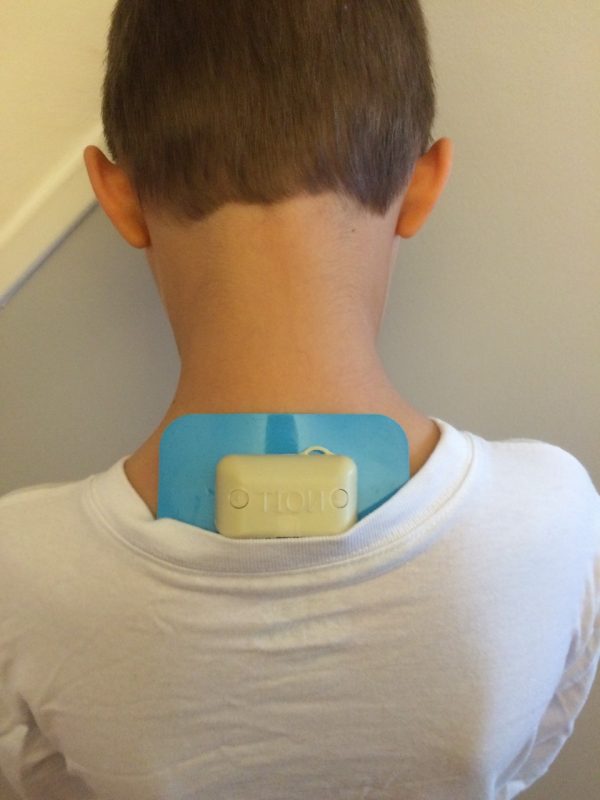 The acronym NOIT stands for natural orientation inducing tool. In essence, it functions to help the user become oriented to their environment by reminding them to attend to what is going on around them. It emits a special sound every 8 seconds which was engineered to be heard above and behind the head. Hearing this brings the world into focus. It is wireless and sticks to the back with a sticky gel on the mid-line between the bottom of the neck and between the shoulder blades, easily hidden under clothing. It is easy to wear for short or extended periods of time making it ideal for people who need this kind of help.
Who has NOIT helped?
The NOIT is helpful for anyone who wishes to create and maintain orientation — otherwise known as being focussed or concentrating. Often, we wish to be focused on a task, but are distracted. This is especially true of people with learning differences like dyslexia, ADHD, sensory issues, or autism spectrum disorders. NOIT has been found to be useful for all of these users, bringing a state of calm and focus which makes many aspects of life more manageable and successful. Things that users have reported:
Improved focus and attention
Improved language, pronunciation, and communication skills
Improved balance and movement skills; improved fine-motor skills
Improved concentration on boring or difficult tasks
Improved reading and comprehension
Less distraction, sensory overwhelm, and confusion
Some have asked why NOIT can help with so many things. The answer makes perfect sense when you think about it — being calm and focused means being in a pleasant state ready and able to take in information and manage the stresses and expectations of our society. Of course, that is going to affect many aspects of everyday life!
Why pre-order a NOIT?
The NOIT was originally created by Ron Davis to help individuals with autism working with Davis® Autism Facilitators to begin to communicate. And it worked. So, for the past 11 years he hand-made these units, along with the adapters and gels that make them function. But he is in his late 70's and has retired.
In order to keep this assistive technology alive, we need to do what it takes so it can be professionally produced. However, it costs a lot of money for redesign and engineering, software and hardware expertise, computer files and drawings, manufacturing set up, and creation of the final new product. The new NOIT will be flexible, modern, thinner, durable, easy to use, and water-resistant. Most importantly, it will be available for years to come.
Through this special offer on kickstarter, you can pre-order a NOIT for you or someone you love or work with below the suggested retail price of $179 USD ($228 CAD) and be guaranteed to get the first of the new units as soon as they are available. You can also choose to support the campaign without receiving a new unit if you prefer. Either way, you are keeping this life-changing assistive technology alive for years to come.