Klaire de Lys raises funds for Davis programs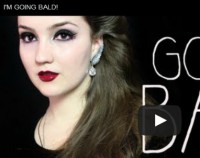 (Cross posted from http://www.indiegogo.com/projects/klaire-de-lys-dyslexia-bursary-fund)
On 1 August 2013, dyslexic singer, artist and make-up artist Klaire de Lys will shave her head to raise bursaries for people with dyslexia and on a limited income to access the Davis Dyslexia Programme.
21-year-old Klaire, who lives in Reading, Berkshire, founded KlairedelysArt in January 2009, a Youtube Channel devoted to artistic make-up tutorials. To date, the channel has accumulated over 380,000 subscribers. There have been over 86,000,000 views of the videos on the channel. Klaire was featured in a recent article in the Observer, "YouTube UK: 20 of Britain's most popular online video bloggers".
After years of going undiagnosed, Klaire underwent a Davis Dyslexia Programme to address her personal challenges with dyslexia. "To say that that experience made a difference is a serious understatement," says Klaire. "It changed my life completely and gave me the tools to achieve things I could only dream of before."
The Davis Dyslexia Programme was created by Ronald Davis, author of the internationally best-selling book, "The Gift of Dyslexia". The programme originated out of Davis' own experience of severe dyslexia and is now provided in over 30 languages and in more than 45 countries. It plays to the perceptual talents inherent in dyslexia and makes innovative use of plasticine clay as a learning medium.
"At present, the Davis Programme receives no state funding," says Richard Whitehead, Director of Davis Learning Foundation, the non-profit UK arm of Davis Dyslexia Association International. "We are delighted with Klaire's amazing gesture, which will bring the benefits of the programme to people who could never have dreamt of them before."