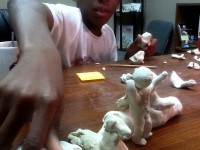 "Dyslexia is a super power," my young friend and client Chase told me the other day.
"Dyslexia is a good thing because I have fun with it. I invent games and entertain my little brother with my dyslexia"
"I made up a game called 'Junk Yard'. We pretend we're in a fancy car that we restored from a junk yard and pretend we're racing."
He never ceases to amaze me with his creations. By 'creations' I mean the inventions that appear after he grabs a chunk of clay; original characters and one-of-a-kind ideas take shape right before my eyes! I don't know how many times I've looked away for a moment to find a pen or to jot down a thought only to look back and find he's generated something new.
"My awesome dyslexic Super-Hero thinks fast, changes size and does things other people can't," he told me as he worked on a detail of his dyslexic machine.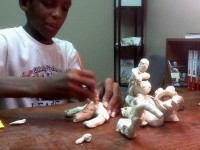 In some ways, Chase is referring to the imagined super-powers of his clay figures. Here's his collection of dyslexic characters with his dyslexic Super-Hero standing on top of it all!
In other ways he is referring to himself.
He is one of the most creative and talented people I've ever met. His ability to think creatively drives his world with ideas for playing, thoughts on life and new things to explore.
No, Chase can't shrink from a nine year-old boy into an action figure like his fabricated super-hero can but he can do things that other people can't. Like his dyslexic clay Super-Hero, Chase is a one-of-a kind!