A Fictional Facilitator – Book Review
Christmas on Cougar Mountain
by Nancy Radke (Book 10 in the Sisters of Spirit series)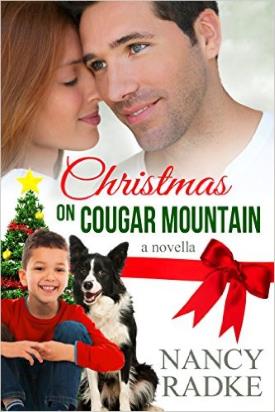 This is a fictional story about Zoey, a Davis Dyslexia Correction Facilitator, who lives and works in a specially designed home/office at the top of Cougar Mountain in Washington state. Zoey first learned of the Davis techniques when her best friend from high school successfully completed a Davis program. Zoey subsequently pursued licensing, something Zoey's parents didn't fully understand, as they had hoped she would pursue a career as a traditional classroom teacher.
A chance finding of a stray dog, a border collie named Sam, leads Zoey to meet Kellen and his third grade son, Reese, to whom this stray dog belongs. Kellen and Reese have recently relocated to this town from California to have a fresh start in life, after Kellen's wife was killed in a freak accident, and in the hopes that Reese could escape the bullying he encountered on a daily basis, due to behavioral problems and academic struggles at school.
Because of a road closure from torrential rains, Kellen and Reese were stranded at Zoey's house for several days after they came to retrieve their lost dog. Zoey quickly recognized characteristics of dyslexia in Reese, and Kellen was taken aback by the fact that someone he had just met not only seemed to know what was going on inside of his son's head, but she also understood him. Zoey also pointed out to Kellen the various "gifts" that Reese possessed as a result of his dyslexic thinking style. Zoey encouraged Kellen to read a book by Ronald Davis, The Gift of Dyslexia, and she also mentioned that she might be able to help Reese with his difficulties, as long as Reese was willing to work hard and participate fully.
As is true with many parents of potential Davis clients, Kellen was quite skeptical that the program could help Reese in a mere one week program. To Kellen, it sounded too good to be true, too expensive, and nothing more than a scam. However, as any parent who has ever had a child with learning differences can relate, Kellen was willing to go out on a limb to try anything that could possibly help his son.
The unexpected meeting of Kellen and Zoey soon leads to a heartwarming love between two people who are both wary and have their own reasons to not want to go the romance way. The story has various twists and turns (complete with a happy ending) that could easily make this an ideal plot for a Hallmark movie.
Christmas on Cougar Mountain by Nancy Radke not only contains holiday romance, but it also conveys the message that anything is possible if only we strive to achieve it. Author Radke was inspired to create the character of Zoey because of her grandson's success working with a Facilitator in her home state.
At this time, Christmas on Cougar Mountain is only available in electronic form.