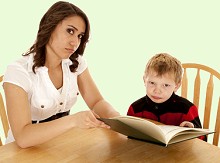 A researcher in England recently reported on the experiences of parents of school-age children who had been identified as dyslexic within the past two years. Researcher Alison Earey questioned parents about their experience from the initial point of concern about their children's difficulties with words, through assessment and their concerns for the future. She found that, despite school policies supporting inclusion and equality, dyslexic children still experience exclusion and prejudice in education. Their experience does not match the ideal and, as a result, their parents are are also suffering.
Some concerns highlighted in the report are:
Assessment and identification was not necessarily helpful. Two parents complained of lack of support from the school, even after their child was determined to have dyslexia. Another family delayed assessment because the school did not positively recognise dyslexia and they assumed that their seeking diagnosis would antagonize the school with no benefit to their child.

Two parents highlighted the importance of directly informing their child's teachers of the diagnosis. They believed that the teachers had not read the dyslexia assessment report on their child, and thus had not understood the resulting requirements.
Parents reported a variety of emotional reactions to receiving the assessment. Some felt relief; others felt helpless or anxious. Some reported feelings of guilt, either because of a sense that the dyslexia was inherited, or because they felt remorse over having accused their child of being lazy in the past.
Earey concluded that the parents' reported experiences and feelings demonstrated a need for support for the parents themselves, not just the child. She wrote, "When parents have to experience constantly what one described as 'an uphill struggle', face huge financial implications and deal with the emotional impact on their nuclear family, there comes a point when an element of support is required."
The full report is available on line here:
Read about one parent's reaction to her daughter's diagnosis here: