A Font for Dyslexia: To Pay, or Not to Pay?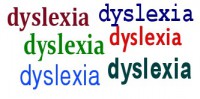 I've been seeing some buzz in social media about a specialized font for dyslexics, called Dyslexie. I am 100% in favor of graphic designers considering the needs of dyslexics in their work. But I have two problems with the Dyslexie font:
1) It is a commercial font requiring users to pay a licensing fee on an annual basis;
2) It is very similar to a font that was developed years earlier with the needs of dyslexic users in mind, and which has always been distributed free for personal, academic, or charitable use.
So I thought I might be able to help by providing a direct comparison of the two font sets.
Here are the two font sets. The first is Lexia Readable, originally created in 2004 by Keith Bates of K-Type. This font can be freely downloaded from either the K-Type web site or from the Dyslexia.com site. It is free for individual use, or for use by academic or charitable organizations. For commercial licensing, there is a one-time fee of £10 (roughly $16 USD).
The second is Dyslexie, created by Christian Boer, who began designing his font in 2008 and which was released in stages, becoming available to US purchasers online in 2011. Boer charges an annual licensing fee for his font: $13.23 for personal use, $118 for school use, and $158 for business use.
Here is what the two fonts look like.

As you can see, the two fonts are very similar. I do not know whether Mr. Boer was familiar with the font that Mr. Bates had been giving away for free for four years before Mr. Boer set out to design his own. Keith Bates describes his font as "an attempt to capture the strength and clarity of Comic Sans without the comic book associations." If Mr. Boer also used Comic Sans as a starting point, that would explain the similarity between the two fonts.
In any case, you can decide for yourself.
Do you like either font?
Do you see a difference between the two?
Do you have a preference?
I'd like to be clear: I have nothing against a person being paid for their efforts, The price for the Dyslexie font is not particularly high — probably less than most people might pay for a single restaurant meal. But the price of any item has to be evaluated in relation to its market — and the market rate for most fonts, from the perspective of the user, is free.
Because Lexia Readable is freely distributable for personal and academic use, a student or a parent who downloads the font for the benefit of a child can share the font with teachers, to install on classroom computers or to use in preparing materials.
Here is more information: