Hacking the Code: The Ziggety Zaggety Road of a Dyslexic Kid
Book Review: Hacking the Code by Gea Meijering and Mads Johan Øgaard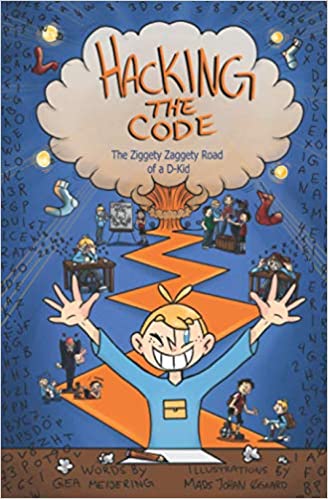 Want to get inside a dyslexic child's mind? Maybe you know a bright child who can't do what the other kids do easily, like spell or read, and you want to encourage them? Give them this book, Hacking the Code: The Ziggety Zaggety Road of a Dyslexic Kid, by Gea Meijering and Mads Johan Øgaard
It illustrates, from a child's viewpoint, his struggles in a humorous fashion and cleverly weaves a dyslexic's strengths and weaknesses as you journey with him in school, home, and outside activities. Kees (the star character) has an overly active imagination that gets him into trouble at school. As a result, he must write a two-page essay on the hardest thing he ever did. Kees, no stranger to punishment, states, "I would rather do trash duty any day over this senseless essay."
While the book aptly describes some of the difficulties dyslexic children face, it balances the struggle with the "gifted" side of dyslexia. Kees, in particular, is creative, athletic, and good at building things.
What I like in particular is how the book addresses common misperceptions about children like Kees. For example, he has the opportunity to shine during a science period where the task is to build a bug. "I don't even have to look at the instruction. I can see in my head how to put the bug together." But, unfortunately, he is called out to be with the resource teacher, a common error often made in our regular school system when it comes to providing help for struggling students. The idea is the child can afford to miss a class they are good at to get remedial help, yet the child misses out on doing something they love. In the end, Kees manages to stay in science class, with some begging.
The author weaves some interesting scenarios Kees must face, including an interesting conversation with his grandfather, his friends that belong to the NADMIL club, his "brainy" younger brother, and his classmates to create a colorful arrangement of experiences that are commonplace for children with dyslexia. A struggling child could easily identify with some of the main character's experiences. Furthermore, Kees invites children to participate in some sample tests, often found in psycho-ed assessments, so they can identify with either being an "Android thinker" or an "Apple thinker" and encourages one to accept the learning difference side of dyslexia rather than viewing it simply as a disability.
Title: Hacking the Code: The Ziggety Zaggety Road of a Dyslexic Kid
Publisher :  iCare Press (April 11, 2021)
ISBN: 10: ‎1736626108 | 13: 978-1736626108