"Mommy! I want my FISH OIL!" declared my 7-yr old son…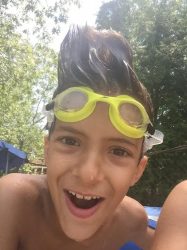 Is this April's Fools Day??? My 7 year old son is asking me to give him fish oil… I guess it worked!
SCORE: Mom +1. The best thing, it is also SCORE: Son +1!
The benefits of fish oil are legendary in our family. My grandmother was in a hospital as a toddler in the 1920's and the doctors asked her to be taken home since there was nothing they could do for her any longer. Her mom did not give up on her and fed her fish oil! My grandmother lived well into her 90's and no one ever remembers her being sick. You get the legend.
With my son's dyslexia diagnosis, cognitive skills became my routine research topic. As I came across the benefits of omega-3 as the brain fuel, this resonated with me. Omega-3 is a fatty acid, most commonly known as DHA and EPA, is highly concentrated in the brain and cannot be produced by the body. The best source of omega-3 is including natural sources such as salmon, flaxseed and walnuts in the diet three to five times a week. Fish oil is another excellent source of omega-3.
As mom on a mission to increase omega-3 intake in our household, I dreaded the flashing memories of my mom running after me with a spoon full of stinky fish oil. I needed magic to keep my sanity and get fish oil into my son's stomach and the brain. And here is what I came up with: Raspberry Shots!
Yes, it is as easy as it sounds:
– Wash an organic raspberry
– Fill the raspberry with liquid fish oil
– Just munch it
I did start with only a few drops of fish oil and increased the amount in each shot gradually. One critical point, I used a reputable brand to prevent any risk of mercury contamination. Ok, I will confess. I did not think it was going to be this easy. But it worked. And I am not looking back.