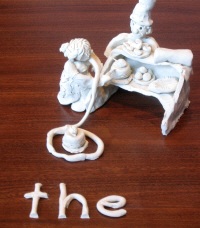 Research shows that the most common word found in English-language books is "the." Matjaž Perc at the University of Maribor in Slovenia analyzed data taken from 5.2 million books published between the years 1520 and 2008, along with Google's Ngram Viewer tool. He then used computer algorithm's to search for the most frequently used words and phrases for each year.
The word "the" was the most common throughout the centuries. The most common three-word phrase in 2008 was "one of the." The most frequently written five-word phrases included, "at the end of the", "in the middle of the" and "on the other side of."
Dr. Perc did find that 16th century writing was more apt to include religious terms. In 1520, the most common three-word phrase was "of the Pope," and common five-word phrases included "the laws of the Church" and "the body and blood of Christ." Of course that may simply reflect the fact that religious writing dominated early published literature.
In any case, it seems that in the 21st century, books are filled mostly with trigger words — the small, abstract function words of language that tend to be stumbling blocks for dyslexic readers.
Dr. Perc noted that the rate of change of English language has slowed considerably over the past two centuries. In other words, those trigger word phrases are here to stay.
Sources: New Scientist: Tracking the Most Popular Words