Picture It! Teaching Visual-Spatial Learners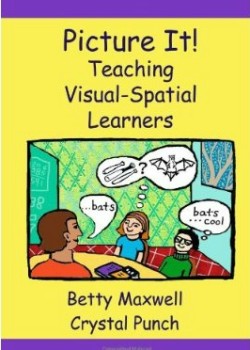 Davis Facilitator Crystal Punch has teamed with educator Betty Maxwell to write a new book geared to teachers and homeschoolers. This 250-page illustrated book is full of practical tips and advice for working with students who learn best through visual or hands-on activities. The book contains suggestion for a wide range of activities and school subjects, such as math, writing, and organizational skills.
The book format makes the ideas easy to use and implement. A classroom teacher could easily browse through the table of contents to find a topic — for example, "Showing your steps" in the Chapter 5: Math for Picture Thinkers. As the authors observe, picture thinkers often have difficulty when teachers insist that they show the steps to answer a problem. The student may easily be able to figure out the correct answer to a complex math problem, but have no clue how to explain their reasoning to anyone else. Picture It! explains why students have this difficulty and offers several suggested strategies for helping students overcome this problem.
That is merely one example of dozens of topics addressed in the book. I think that teachers who get this book will soon find themselves wondering how they ever managed without it. Although geared to teachers, the book is easy to read and its suggestions are generally geared to working with individual students, rather than providing lesson plans or group classroom activities. The information and suggestions will be easy for parents to apply at home when helping their kids with homework, and the book is comprehensive enough to be used by a homeschooling parent as a guide to their overall home teaching plan.
Author Betty Maxwell is an experienced educator and an expert in gifted education as well as the needs of visual-spatial learners. She spent more than two decades on the staff of The Gifted Development Center.
Crystal Punch is a highly experienced Davis Dyslexia Correction Facilitator and a Davis Learning Strategies Mentor.
Book information:
You can now buy this book at the DDAI Bookstore.
Also available at Amazon.com
ISBN-13: 978-1478282310