How do you read to your child?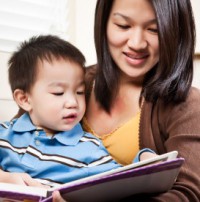 Reading story books to small children is fun, but did you know that the way you read can make a big difference in preparing your child to become a reader? A recent research study showed that pre-school age children had significantly improved early literacy skills when their teachers made specific references to print in the books as they read.
"Print-referencing" means using simple techniques to draw a child's attention to the letters and words on a page, the concept that  clusters of letters form words, that the letters are scanned from left-to-right, that the words have meaning. This activity is woven into the reading; the pictures on the page are also important to meaning and enjoyment of the read-aloud experience.
Ron Davis wrote that each word has three parts: what it means, what it looks like, and how it sounds. The parent who can convey that basic understanding when reading to a child will have gone a long way toward laying a strong foundation for reading. 
Resources for more information: 
Research Citation:
Piasta, S. B., Justice, L. M., McGinty, A. S., & Kaderavek, J. N. (2012). Increasing young children's contact with print during shared reading: Longitudinal effects on literacy achievement. Child Development, 83(3), 810–820. doi: 10.1111/j.1467-8624.2012.01754.x