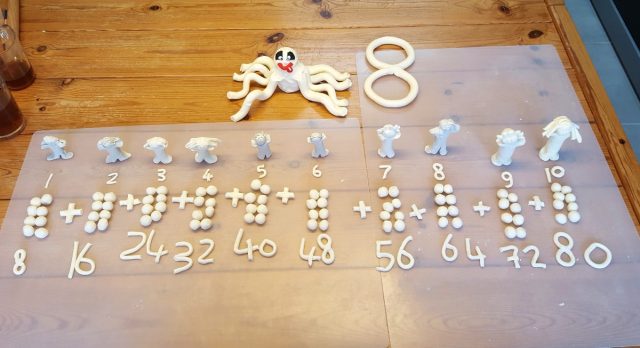 How can you make tables insightful? Let a child prove what the results are, by making them visible.
In the picture, you can see how a girl made an overview for the multiplication table of 8s.
By being able to prove every sum from 1 x 8 to 10 x 8 with balls (just making a count and adding the answer), she was able to save a table like a picture in her memory for the first time in her life.
After that, there is of course a few more times to practice with the picture of the whole overview added. But then comes the certainty and trust in the right answers.
Of course, techniques are also needed to ensure that a child can relax and focus in the right way to get the image in properly.
That's what the Davis method provides. By teaching a child first to relax and focus in a good way, making things his own can suddenly succeed. Even though that was an almost impossible task before.